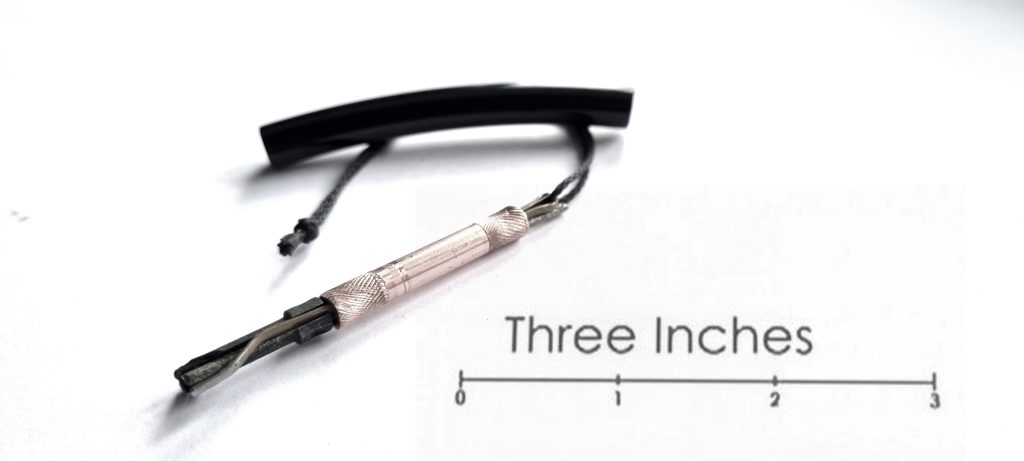 Three Inches…
AHK3-rf, AHEK, Uber Gulag Shim, Optimised Hair-Grip, Diamond Wire Blade, Micro T200 Friction Saw all contained inside a Darby Escape Tube.
The AHK3-rf works on the following handcuffs plus more that share the common key-way:
– ALCYON
– ASP
– CLEJUSO
– HIATTS
– KYOUNG CHANG
– PEERLESS
– RALKEM
– RUSSIAN BRS-1
– SMITH & WESSON
– TCH
– UZI
– WALTER
– YUIL
The AHEK works on Chinese ANHUA Handcuffs HC-01W and HC-19W.
The Uber Gulag Shim has a unique length, width and thickness, which ensures it will work with a wider selection of handcuffs that would otherwise resist or fail to shim with other commercially available shims.
These include American UZI, British TCH, Czech ALFAproj, Polish KEL-MET, Russian BRS-2, Russian CROT and Spanish ALYCON.
The Optimised Hair-Grip can replicate the function of handcuff keys lock bypass tools.
The Diamond Wire Blade (DWB) can cut through a wide range of materials, including metal.
The Micro T200 Friction Saw can cut through non-metallic materials.
The Darby Escape Tube works on both types (male and female).
Available via OscarDelta SPD